The Louisville Manufactured Housing Show 2015
800 Old Roswell Lakes Parkway
Suite 140
Roswell, Georgia 30076
October 2014
Contact: Dennis J. Hill
Phone: 770-587-3350
FOR IMMEDIATE RELEASE
The Road to Success
MESSAGE FROM THE CHAIRMAN
We're proud to welcome you back to The Louisville Manufactured Housing Show. Some of you have been with us for decades – Others have joined us as the show's reputation grew. It's always fun to catch up with old friends, and almost as much fun to make new ones. Most of our attendees are loyalists. This event represents the best opportunity of the year to check out new homes and supplier product introductions. They know that what they see and order here will be what their customers want to buy, because everyone has always recognized our long tradition of pinpointing "current preferences and tastes"… this is marketing at its best! If we all keep in mind that The Louisville Manufactured Housing Show is about marketing, those dollars will continue to roll in.
WHEN YOU ADD UP ALL THE REASONS…
It Just Makes Good Sense to Exhibit at the Louisville Manufactured Housing Show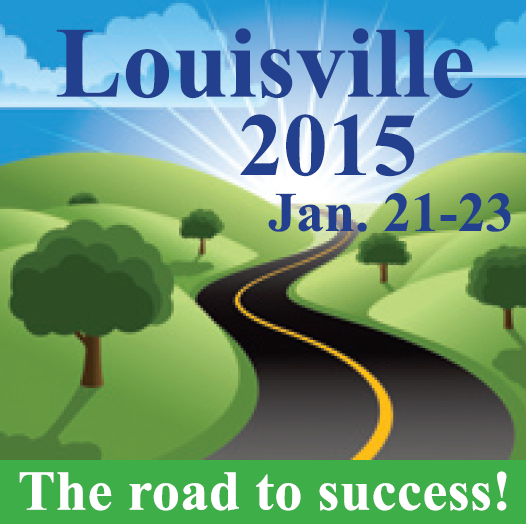 Reason #1: You Will Exhibit In A Marketplace Attended By builder/developers, retailers, community owners/operators, and installers from all over the nation.
Reason #2: You Will Have Access To New Customers And Prospects Who Can Boost Your Revenues & Productivity…
Reason #3: You Will Gain Significant Visibility In A Competitive Market…
Reason #4: You Will Capture Strategic Intelligence From A Diverse Group Of Buyers…
Reason #5: You will be able to be part of the Louisville Show's growing success…
MAKE HOTEL RESERVATIONS EARLY
It is essential that hotel rooms be reserved early, because as show time gets closer there is typically a huge demand. Reservations may be made for our show directly with the Crowne Plaza Louisville Airport. When making reservations, please refer to The Midwest Manufactured Housing Show to receive the special room rate.
Crowne Plaza Louisville Airport
Headquarters Hotel
1-888-233-9527
$108 single/double
Web Link: https://resweb.passkey.com/Resweb.do?mode=welcome_ei_new&eventID=11862572
IT'S ALL IN THE DETAILS
Louisville is easily accessible by plane and car. The city is intersected by major highways, and the airport is a short 7 minutes away. There are three major carriers serving Louisville, Delta, U.S. Air, and Southwest. The Internet has made discounted fares common, because all airlines offer discounts on their websites. Airlines post special rates daily, so by checking back routinely, travelers are likely to find some really low fares. They may also call the airlines' toll-free numbers directly and ask if there are specials. The airlines can be accessed as follows: www.delta.com or 1-800-221-1212; www.usair.com or 1-800-428-4322; and www.southwest.com or 1-800-435-9792. Many of the best fares are only available online.
There is no registration charge for retailers, builder/developers, community owner/operators, and installers. Non-exhibiting manufacturers and suppliers will be charged as follows, and are not allowed to solicit business during the show: 1).Service/Suppliers: $100 for the first representative and $75 for each additional representative from the same company; 2) Manufacturers: $1,000 for up to 5 representatives from the same company plus $150 for each additional representative from the same company.
SHOW HOURS
Wednesday, January 21
9:00 a.m. – 5:30 p.m.
Thursday, January 22
9:00 a.m. – 5:30 p.m.
Friday, January 23
9:00 a.m. – 12:00 NOON
IT'S NEVER BEEN EASIER TO ATTEND. If you have not registered for the show, please utilize our web link site:
http://www.prereg.net/2015/lmfs
Our online registration will be available starting on October 1, 2014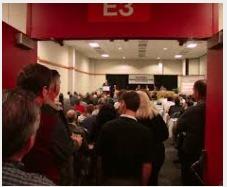 We are expanding Seminar space for 2015!
Standing Room Only at 2014
Business Building Seminars
Don't miss them!
The 2015 Louisville Manufactured Housing Show is sponsored by The Midwest Manufactured Housing Federation, including its five member organizations: the Illinois Manufactured Housing Association, the Indiana Manufactured Housing Association, the Kentucky Manufactured Housing Institute, the Michigan Manufactured Housing Association, and the Ohio Manufactured Homes Association. It is produced and managed by Show Ways Unlimited. For information on either exhibiting or attending, contact Dennis J. Hill, Show Coordinator at (770) 587-3350. ##
You can download The North Wing of the Kentucky Expo Center (KEC) and Exhibitors Map by clicking on the buttons below:
[custom_button text="Download Exhibit Map" title="Download Exhibit Map" url="http://louisvillemanufacturedhousingshow.com/wp-content/uploads/2014/10/Lou-Mfg-Housing-2015-Full.pdf" size="medium" bg_color="#1C1C40″ text_color="#FFFFFF" align="left" target="_new"]